Ojai Roots started as a large home vegetable garden nestled amongst the oak and eucalyptus trees of Ojai's Arbolada neighborhood. Originally designed to produce food for neighbors and family at the onset of the pandemic, what began as a small project has evolved into a highly diversified farm. Today, Ojai Roots has a talented team operating on three primary properties with the same goal of feeding a now expanded community that includes Ojai Valley and its neighboring counties.
As our business has grown, we have collaborated with other organic and sustainable farmers, and today, Ojai Roots offers the finest selection of local and organic food products in the area.
While our origins are in fruits and vegetables, our farm now produces meat, eggs, olive oil, and wine, to name a few. Our products are distributed through our weekly farm box program, our online store, and the availability list we provide to restaurants and food purveyors each week.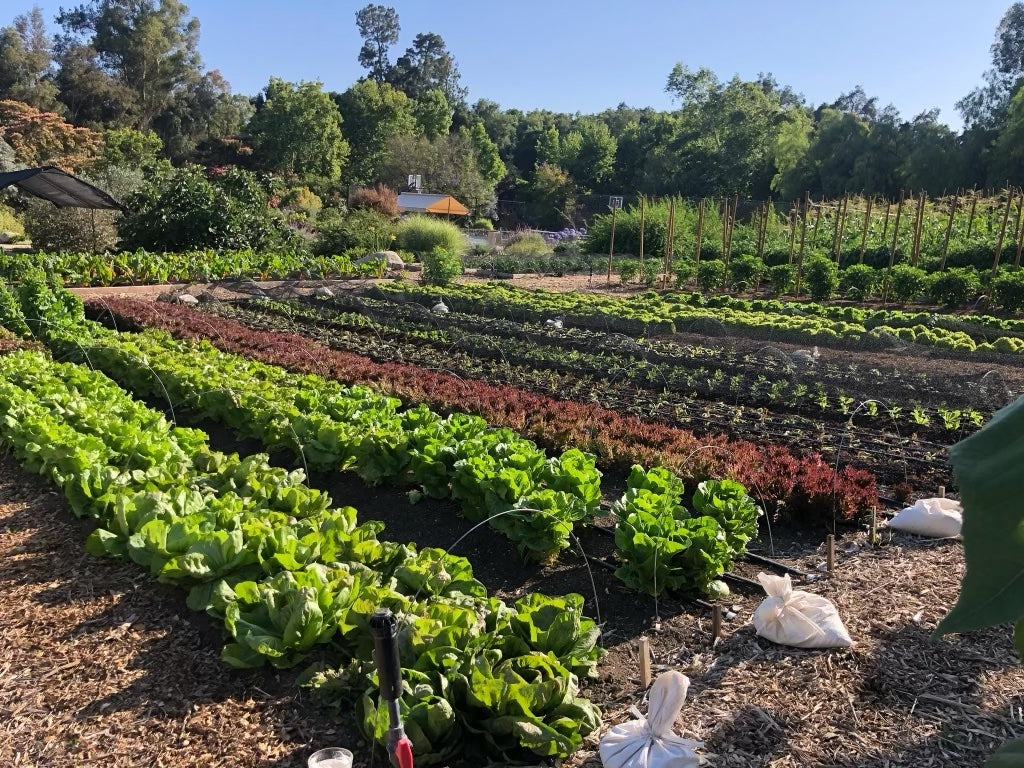 The Arbolada
Ojai Roots Farm was born at our beautiful 30 acre Arbolada location in downtown Ojai. Our Arbolada location is home to the original Ojai Roots vegetable market-garden, our Ojai Avocado orchard, two small Syrah vineyards, and several citrus and stone fruit orchards.
Explore
The Ranch
Neighboring Lake Casitas, this 100-acre property will be fully operational at the end of 2023. The property will include greenhouses, beautifully terraced gardens, and a farmhouse. In addition to our agricultural operations, we are dedicating a large portion of the property to wilderness preservation. During the design phase, we will be offering limited events for our Ojai Roots members. Stay tuned as we share our progress building out The Ranch.
Explore
Paso Farm
The farthest branch of the Ojai Roots farm is nestled amongst the oak trees and rolling hills of Paso Robles, CA. Our Paso Robles farm is the primary home to our cattle herd and is planted with a vineyard and an olive orchard.
Explore
Fellow Farmers
California is home to one of the world's most diverse and talented communities of innovative farmers. When other farmers meet the Ojai Roots quality and sustainability standards, we proudly partner with them to procure the finest ingredients for our customers. We are committed to equity and take every opportunity to support farms that are owned by women and people of color.
Explore
Restaurant? Chef? Wholesale? Farmer?
Connect with us! We'd love to work with you.
805-798-4858